Shredded Diesel: Bodybuilder Zee Al Sayegh Interviews With Directlyfitness.com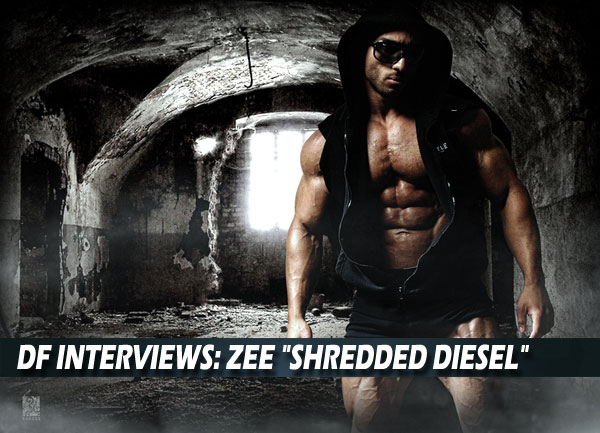 1. Tell us a little about how you got to your current success level.
Passion and a strong drive to whatever you want creates success. Having an aim and then moving towards is what gives the satisfaction. I never doubted myself and had faith in moving towards my vision, the result is a combination of hard work and believing in yourself thats create success.
2.What do you think is the number one thing keeping you motivated?
The adrenaline rush.
3. What is your training routine like?
Monday: Quads and Hamstrings
Leg extensions: 3 sets of 20 reps
Smith machine squats: 7 sets of 8-12 reps
Front hack squats: 3 sets of 8-12reps
Leg press: 3 sets 15 reps last set is a drop set to failure
Walking lounges: 2 sets 15 walking lounges each leg
Seated leg curls: 4 sets of 12-15reps
Single leg curl: 3 sets of 8-12reps heavy
Stiff leg dead lift:3 sets of 10 reps
Tuesday: Chest and abs
Cable cross over: 2 sets of 20reps
Incline bench press: 3 sets of 8-12 reps
Incline hummer free loaded machine press: 3 sets of 8 reps heavy last set is a drop set.
Pec deck fly machine: 3 sets of 12-15 reps
Smith machine flat bench press: 3 sets of 8 reps
Decline hummer machine press:3 sets of 12 reps
Crunches: 3 sets of failure
Leg raises: 3 sets to failure
Ab roller: 2 sets to failure
Wednesday: Back and calves
Seated calve press: 4 sets of 8-15 reps
Standing calve press:4 sets of 8-15 reps
Dead Lift: 4 sets of 6-8 reps
Pull ups: 3sets 8 reps
Dumbbell rows: 8-10reps
Reverse barbell rows: 3sets of 8-10 reps
Cable D-bar rows: 3 sets of 12 reps
Pull downs: 3 sets of 10 reps
Cable pull over: 7 sets of 8-12reps
Hyperextensions: 2 sets to failure with weight of drop sets
Thursday: Rest day
Friday: Shoulders, traps and abs
First thing in the morning I would do a circuit abs training that includes 3 sets to failure:
sit-ups
hanging leg raises
abs roller
1min planks
Barbell shrugs: 4 sets of 8 reps
Dumbbell Press: 6-8 reps ( last set is drop set )
Side dumbbell raises: 3 sets of 6-15 reps ( all 3 sets are drop sets)
Seated dumbbell front raises: 3 sets of 10 reps
Behind the neck barbell press: 3 sets of 8 reps
Reverse peck deck fly: 4 sets of 8-15 reps last set is failure
Upright rows with 45lbs plate: 3 sets failure using mind muscle connection.
Saturday: bicep and triceps
Seated dumbbell curls: 4 sets of 4-6 reps
Machine preacher curl: 3 sets of 8 reps
Standing barbell curls: 2 sets of 10reps
Hummer dumbbell curls: 3 sets of 8-12 reps
Cable rope attachment extensions: 3 sets of 15 reps
Cable push downs: 8-12 reps
Close grip barbell bench press: 6-8reps
Over head 1 arm dumbbell extensions
Sunday: Rest
4. What kind of cardio do you feel works best for you?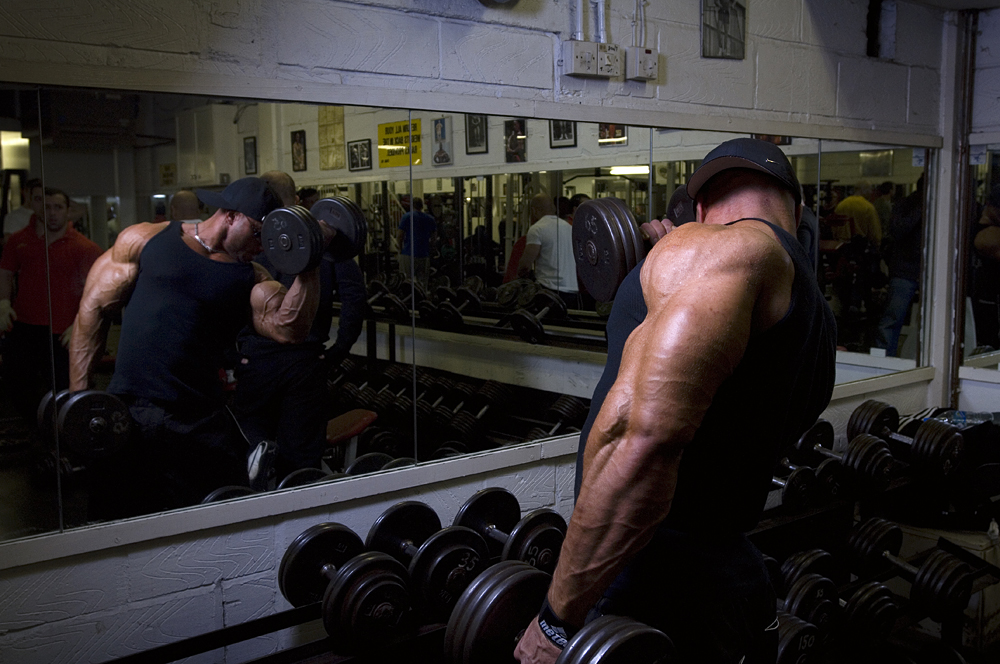 Treadmill on an incline level 8-10 (time: 30min-45min.
Intensity: Speed 3 (walking slowly)
# days: 5)
5. What do you think of free weight vs. machine training?
Actually when you incorporate both free weights and machine training in your training routine it will put your body in a shock. This means your body will reach its goal faster and will also help in a way that won't let you hit a plateau.
6. How does your on and off season training and diet differ?
Well diet wise when I'm off season I tend to eat 3 healthy meals and 2 meals of what ever I want, it could be KFC, burgers and French fries along with ice creams and any thing! And yes that is every day!!! When I'm off season I tend to live more like a human than a machine that has a fixed food regime. I know what's going in your head now "this man is mad" nah I'm not! I'm either giving it 100% and full ass kick it rather than still stick to eating clean all year round then when I really have to get in shape I'm soo boored aahhhh sick of the same everyday routine.
The only thing that's different would be my that carbs intake has dropped. No I don't half ass kick it. Like I said earlier, I'd rather FULL ass kick it when it comes down to both my diet and training and give them both 100%. When its time to get back in shape and start my on season I'd be more hungry because I'm out of shape. It becomes a challenge for me to see how quick it will take me to get back in my zone looking all cut up and shredded! Bottom line, off season diet makes me miss getting back on a strict diet.
Training wise I would still go work out, but it won't be as intense. When i'm on season. I tend to allow my body to recover from all the heavy weights I used to bang when i would be on season. Bottom line, off season training wouldn't be as fancy as on season training. Off season won't include techniques such as FST-7, drop sets, forced reps and so on. Off season for me is recovery and I would walk in the gym and make sure I still get pumped and have blood flow reaching my muscle on modern resistance weights.
7. What top 3 tips you can give to our readers regarding nutrition?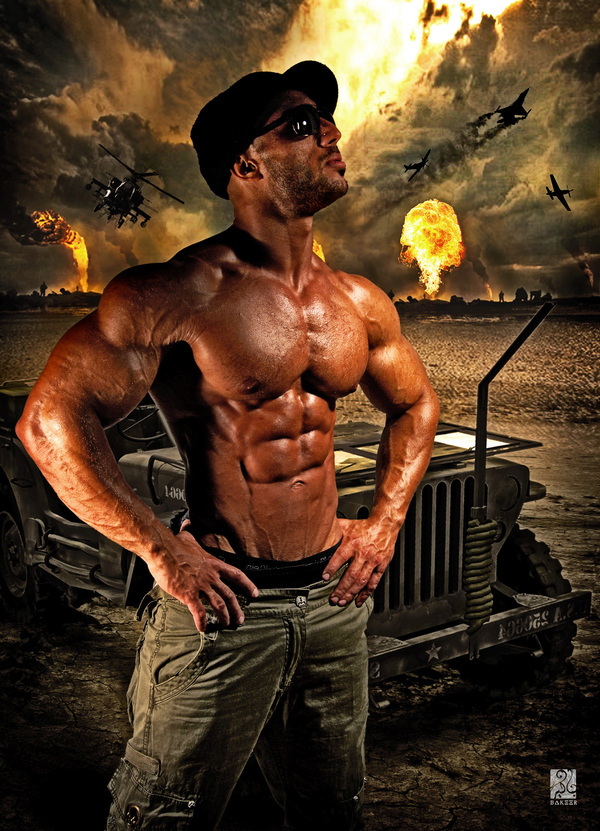 Always give your diet some time to kick in then start looking for results. A good example would be if your goal is fat loss dont try to rush and start dropping your carbs too fast or too early from day one.
Here's how it goes, 70 % is a good diet and nutrition plan, then 20% is training and 10% is rest = 100%.
Remember you are what you eat! You can be in the gym hours working out, if you don't eat and diet right you wont reach your goal fast unless your gifted and blessed with good genes that allows you to eat what you want and still look fit.
8. What's your diet like?
30min before break fast 10g L-Glutamine then I would shower to feel fresh and get hungrier.
Meal 1:
13 egg white
2 hall eggs
100g oat meal
500ml water
Wait 2 hours so I do online work you know just to pass time
30min before my work out I would have a pre-workout drink that has some NO energy drink to set my mood right!
After my work out I would have:
50g whey
100g Vitargo
10g Creatine
1 and half hour later:
Meal 2:
200g lean cut of steak
(2cups) 400g white rice
Half cup broccoli
500ml water
Meal 3:
200g chicken breast
(1cup) 200g white rice
Half cup spinach
Half avocado
500ml water
Meal 4:
200g lean cut of steak
(1cup) 200g white rice
Half cup broccoli
500ml water
Meal 5:
300g white fish
(1cup) 200g white rice
Half cup spinach
Half avocado
500ml water
Meal 6:
300g white fish
Half cup spinach
1 hall avocado
500ml water
Before bedtime:
As you can see I'm very basic. I tend to play with my carbs, fat and protein depending on my goal.
9. Do you believe in cheat meals?
Big believer.
Why or why not?
Well first of all its not just fitness its going to be your way of life. Meaning…. It's very hard to be on a diet for such a long time. Some people I know who diet and don't do cheat meals can't wait to finish their weeks off diet. So with 1 cheat meal or even cheat day depending on your body genes and your goal, a cheat meal will tend to get your cravings out of the way to help you stay on your diet longer and not worry ''ohhhh when will my diet end!?''
like for real try to enjoy your diet by seeing results but also eating what you crave for and not feel like your in jail. Saying what I said, cheat meals will also help you mentally and physically. Your body also needs cheat meals to recover and help you respond to your diet in order for you not to hit a plateau.
10. Which physical feature you are most proud of?
The physical feature I'm most proud of varies from time to time. For example I might be focusing on my shoulders, when I accomplish results in that area, I become proud of that positive change. Then I might be focusing on losing fat and so on and so forth.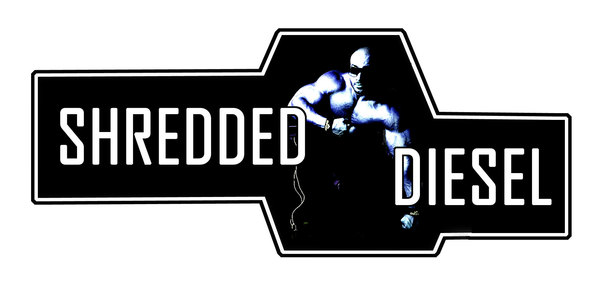 11. What supplements do you use if any? If not, why not?
I use 10g L-Glutamine upon waking up 30min before break fast and 10g more before bedtime.
30min Prework out I have a NO energy drink
Post work outI mix 50g protein of whey isolate, 75g carbs from Vitargo and 10g creatine.
I will also have 3g of BCAA between meals
12. Favorite Bodybuilders, models, or athletes?
In unparticular order:
Ronnie Colman
Dorian Yates
Kevin Levronie
JD Dawido
Mike Tyson
Jennifer England
Marzia Prince
Vida Gorera
13. Do you listen to music while you workout?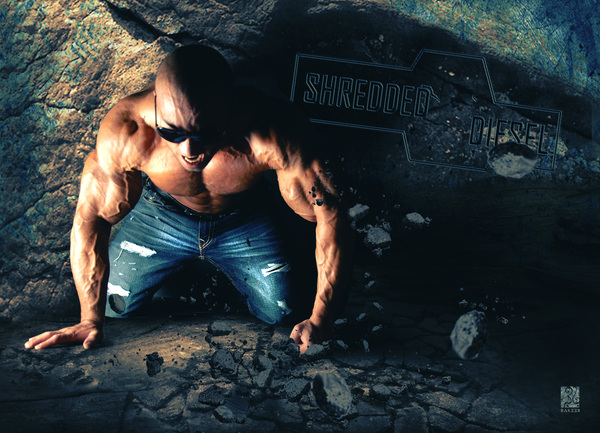 Sometimes. It all depends on my mood and how I'm feeling. But most of the time i don't, as it gives me a headache while I work out.
If so what kind gets you pumped up? Mostly hip hop and RnB.
14. Who inspires you most?
Anybody who builds him or herself from ZERO is an inspiration for me. It inspires and motivates me to go out there and chase that dream and bring it into 3D reality. Thoughts become things!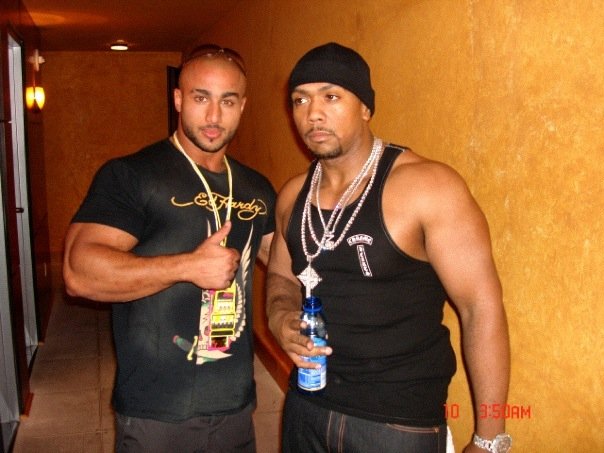 15. Do you have a favorite quote?
You never know how strong you are, until being strong is the only choice you have!
16. What do you believe to be your greatest weakness?
Muscle wise it would be my calves.
17. What last 3 tips would you give to our readers to reach their fitness goals?
Use mind muscle conection while working out. That way you will work that trained muscle twice as hard. And results will be seen fast!
Your work should be 1 hour and if pushing it to maximum 1 and half hour in the gym. Hit your work out smart depending on your fitness goal. That way you make sure you're not over training at the gym and you will continue seeing results.
Be patient! This sport takes time, nothing happens over night. No mater what your goal is muscle building or fat loss. Don't try to rush in to it.
no images were found
Thank You And God Bless
Facebook: Shredded Diesel Fan Page
DVD Trailer: Shredded Diesel
Website:www.shreddeddiesel.com
Directlyfitness Team
Directlyfitness.com is dedicated to bringing you the most informative and up to date information to help you reach your fitness, health, and physique goals. Also visit our
store
for great deals on popular supplements!
Latest posts by Directlyfitness Team (see all)
One Response to "Shredded Diesel: Bodybuilder Zee Al Sayegh Interviews With Directlyfitness.com"