How to Perform the Dumbbell Biceps Curl
About the Dumbbell Biceps Curl Exercise: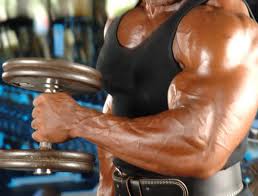 This variation of biceps curl utilizes dumbbells instead of the typical flat barbell or EZ-bar's. This is a great alternative for those with wrist dysfunctions or find pain with the barbells.
Muscles Used in the Dumbbell Biceps Curl Exercise:
Biceps is utilized primarily with all the flexors of the forearm and supinator muscles working as well. The shoulders also play a role in stabilizing but shouldn't do a lot of work if done properly.
Perform the Dumbbell Biceps Curl Exercise
Starting Position:
Can be seated or standing with hand grasping dumbbells at sides with palms facing your body.
Stand up tall if standing or straighten back if seated throughout.
Feet should be shoulder width apart.
Arms should be hanging straight down with palms in front of you.
Upward Phase:
Begin by flexing at the elbow.
Palms should be facing forward until elbow is flexed all the way (then facing you).
Keep wrist straight and don't allow for bending as this can cause injury.
Flex elbows until you cannot move any farther.
Palms should now be facing your shoulder.
Elbows should stay close to torso the whole time.
Do not use momentum to swing the weight.
Downward Phase:
Slowly extend elbows while keeping them tucked in at your torso.
Keep wrist and back straight.
Keep palms facing forward.
Movement is complete when arms are near where they began.

[br]
Directlyfitness Team
Directlyfitness.com is dedicated to bringing you the most informative and up to date information to help you reach your fitness, health, and physique goals. Also visit our
store
for great deals on popular supplements!
Latest posts by Directlyfitness Team (see all)